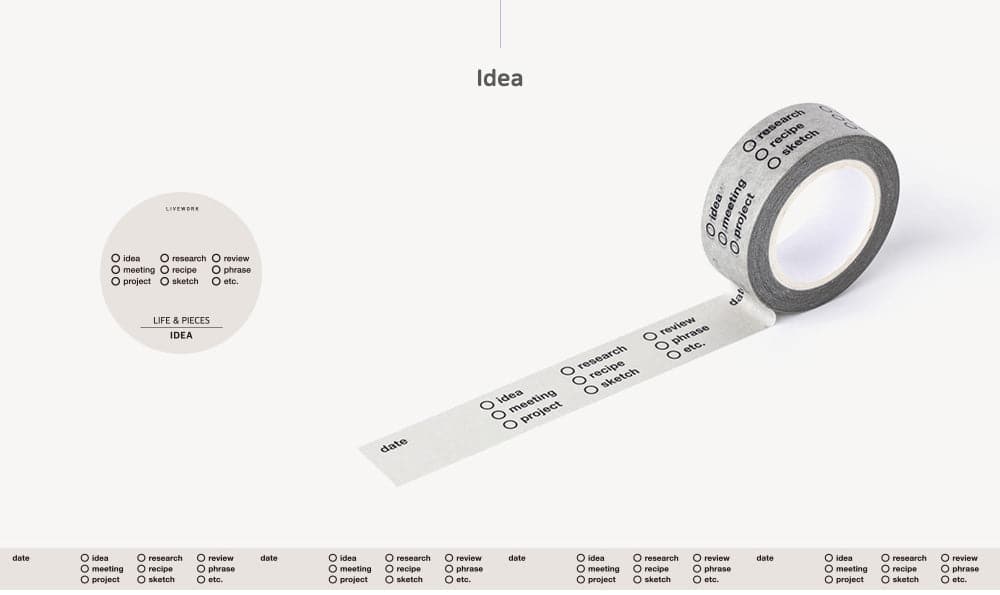 Livework Life & Pieces Masking Tape - Idea
---
The Livework "Idea" masking tape is a clever little journaling delight. It's perfect for your bullet journal, scrapbook or calendar. The tape is designed to lend a helping hand to your journaling experience. Printed with a list of categories with checkboxes and a date section, it can be used to mark pages in your notebook and help you differentiate between ideas, recipes, sketches, and more. Conveniently, the tape is made from semi-transparent paper and tears off easily.
1 role of Livework Life & Pieces "Idea" Masking Tape
White self-adhesive tape
Printed with a repeating pattern of date sections and checkboxes
Categories listed on the tape: idea, meeting, project, research, recipe, sketch, review, phrase, and "etc."
Dimensions: 15 mm wide x 10 m long
Material: Paper
Livework Life & Pieces masking tape is available in many different styles. We have found that a pencil works best on this masking tape but if you prefer a different pen please try it out to see if it will feather or bleed through the tape.